Hunting & Fishing: Knives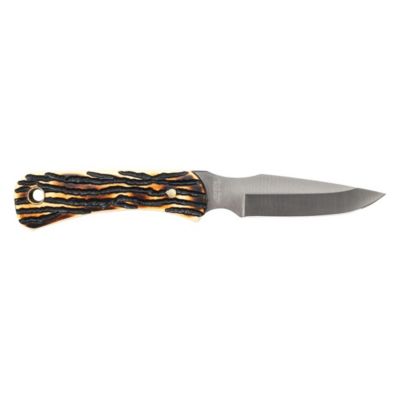 Uncle Henry 2 pc. Elk Hunter Drop Point & Caping Full Tang Fixed Blade Knife Combo - Fixed Blade Knife - 3.83" Blade - Drop Point Design - High Carbon Stainless Steel Blade - 8.41" Overall Length - 4.58" Handle Length - High Carbon Stainless Steel Blade Material - Staglon Handle Material - Hunting, Camping Fixed Blade Knife - 3.83" Blade - Drop Point Design - High Carbon Stainless Steel Blade - 8.41" Overall Length - 4.58" Handle Length - High Carbon Stainless Steel Blade Material - Staglon Handle Material - Hunting, Camping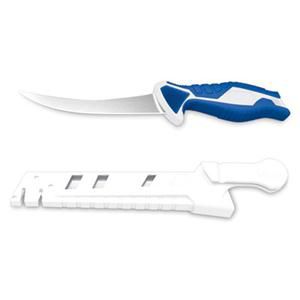 Lazer Sharp Custom Saltwater Fillet Knife with Magnetic Sheath and built-in Blade Sharpener. Custom features like the built-in sharpeners (both course and fine) keep this knife's blade super sharp while its magnetic sheath keeps it safe, convenient, and easy to grab while on or near water. 6" stay-sharp 420 stainless steel blade; Slightly curved point aids in filleting fish; White and blue slip-resistant thermoplastic rubber (TPR) grip; Belt/pant clip for easy mobility; Vein scoop to assist with removal of the dorsal vein; Sheath features two integrated sharpeners (course and fine); Sheath has two extra strong magnets for securing knife to metal surfaces for quick access (Not designed for use on a moving vehicle or vessel).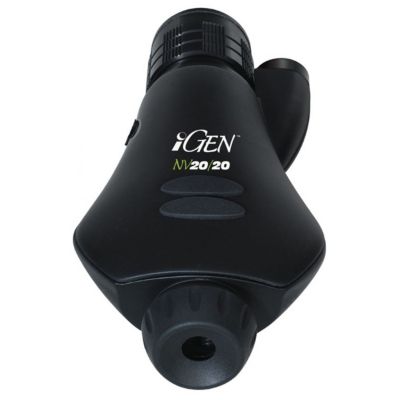 Night Owl 2.6x iGen 20/20 Monocular - 2.6x 2.6x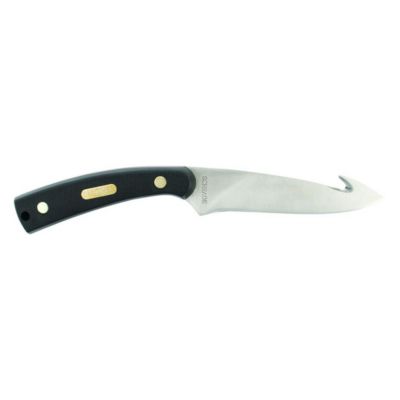 Uncle Henry Old Timer Guthook Skinner Full Tang Fixed Blade Knife - Fixed Blade Knife - 3.50" Blade - 7.30" Overall Length - 3.70" Handle Length - Skinning Fixed Blade Knife - 3.50" Blade - 7.30" Overall Length - 3.70" Handle Length - Skinning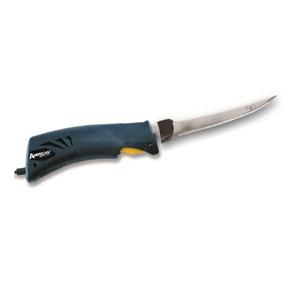 If you're looking for the power and stability of an electric fillet knife but don't plan on catching a variety of fish, the Classic EFK with an 8" serrated freshwater blade is the perfect setup. The slide curve of the blade and its generous length make it a great choice for small to medium range catches, and the blade can be easily removed for cleaning and storage when not in use.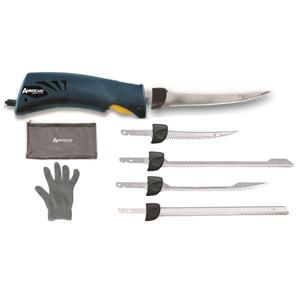 We've put a new spin on this American Angler Classic electric fillet knife. Retained from the old school design is the handset with its high performance motor and gear system. What brings it up to speed is a state-of-the-art vent design to reduce heat put off by heavy use. This is paired with a varied and durable selection of five unique, interchangeable blades to provide you with a versatile and dependable electric fillet knife that performs as well on open ocean catches as it does on catches from the lake.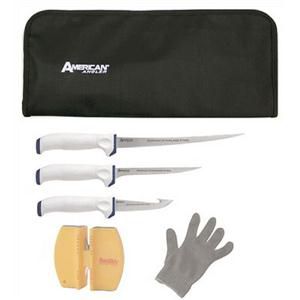 American Angler 6 piece Saltwater Fillet Kit contains: 4" Saltwater Bait Knife, 6" Saltwater Curved Knife, 9" Saltwater Knife, Manual Sharpener, Fillet Apron, Nylon Carrying Case. Saltwater knives are made of German Stainless with revolutionary side thumb grips; Sharpener features coarse and fine sharpening options; Fillet Apron is double layered, water resistant and machine washable; All products are contained in a sturdy nylon carrying case with convenient storage.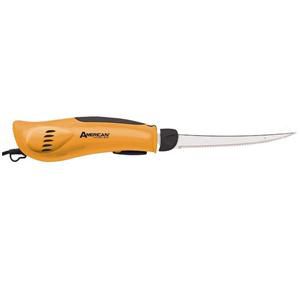 American Angler's newest electric fillet knife, the PRO EFK, is our most powerful knife yet. With 2X the torque and smooth and consistent filleting, the only thing slowing this knife down is how long it takes to land your catch. Orange
---
https://www.ibsupply.com
Printed on 11/19/2017 04:25 AM